A well-finished tiling project is a beautiful sight. A large tiling project will have months of planning and preparation behind it. There are many steps that lead to the showroom finish that is desired by all when first designing the tiling project of their dreams. Tile trims are an essential part of achieving the beautiful, clean and crisp looking edge finish that is much sought after. In this blog we will explain what tile trims are and their benefits to you in your home.
What are tile trims and what are their benefits?
Tile trims provide the perfect finish to the edge of your tiles. Available in a variety of sizes, colours and materials, they add a professional finish while also covering rough, sharp or unsightly edges that may be dangerous if left revealed. Tile trims can be PVC, or metallic in many finishes, making it easy to find a trim to beautifully match your tile design and individual personality. Chrome and stainless steel tile trims are amongst the most popular and are our personal favourites for any room. With a range of different metallic finish options available including bright, brushed, and matt Silver, Brass, Stone and Wood effects as well as PVC in a wide range of shiny and matt colours starting at white and finishing with black at Tile & Stone Gallery we have a range of tile trims to suit all tile designs.
Our tile trims are highly durable and available in a range of sizes to suit your tile thickness. Our tile trims are therefore perfect for those final touches to your project. The price of our tile trims vary on size and style so it is always advised to consider the best option for your individual project by speaking to one of our experts.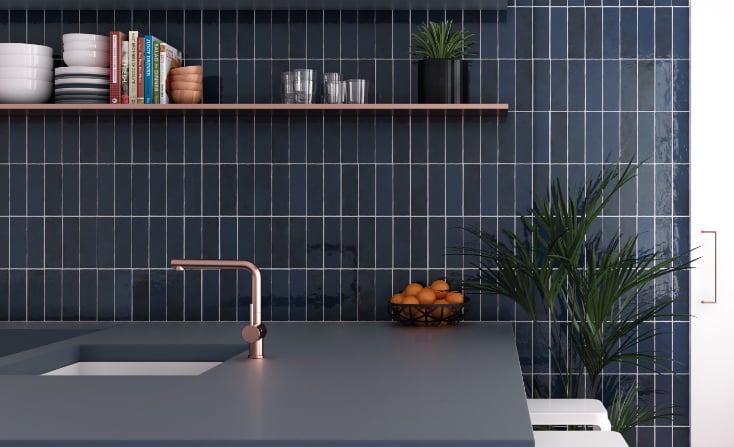 At Tile & Stone Gallery we stock a wide selection of tile trims and other transition trims of the highest quality. Keep up to date on our latest news, tips and offers by following us on Instagram, Facebook and Twitter.
Visit Our Showrooms
RETURN TO INSPIRATION